In My Practice—Redefining the Role of Epidural Steroid Injections & the mild® Procedure
Author— Alexander Escobar, MD Published May 5, 2021
As pain physicians, we are well known for administering epidural steroid injections (ESIs) to manage symptoms for our patients who are suffering with lumbar spinal stenosis (LSS). They are a staple in our practices. Our colleagues know that they can confidently refer their patients to us for a series of injections, and patients know to come to us if they want to exhaust conservative options prior to considering major surgery. However, as our specialty evolves and advanced interventional therapies like the mild® Procedure secure a key role in our patient care paths, we must force change in our practice routines. This includes informing the patients and providers that we have options that allow us to move beyond serial ESIs that will address the underlying pathology and actually fix the problem.
LSS is a degenerative condition, typically with multiple spinal comorbidities having both ischemic and radicular components. ESIs help to alleviate radicular and inflammatory components while the mild® Procedure provides a minimally invasive decompression to address the ischemia or narrowing. So how do we use these therapies together? How do we develop practice treatment algorithms or patient care paths to optimize care and outcomes?
After years of treating patients with both, I ASSESS. EDUCATE. ADAPT.
ASSESS: Should you move straight to the mild® Procedure or perform an epidural steroid injection (ESI)? Assess patient history and outcomes.
Start by assessing the patient's history and align your treatment plan with the type of relief they are seeking. Respond to their relief requests by discussing the applicable therapies that your practice offers.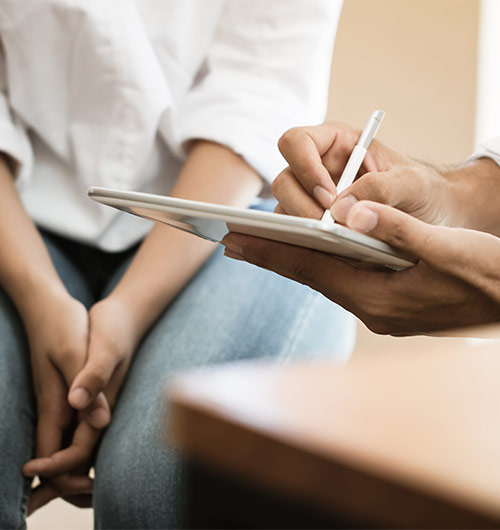 Patient has failed ESIs
If the patient has received ESIs in your practice and the outcomes were not efficacious, there is no reason to offer them another one. If a patient comes to you from another practice and has recent history of epidural steroid injections, move to mild®. They're likely seeking an alternate option, and mild® is something that can provide them hope.
Patient has never had an ESI
If a patient has never had an ESI, and they have an inflammatory or radicular component in addition to neurogenic claudication (NC), then you can offer them a chance to see how they may respond to an ESI. I always tell patients that we are no longer doing a routine series of three injections; we can evaluate the effectiveness of the injection quickly and then decide the next steps. Assess their outcomes, and if they have relief for greater than one month, allow the patient to decide whether they want to repeat the ESI or move forward to a more definitive therapy like the mild® Procedure, a minimally invasive lumbar decompression.
EDUCATE: What makes your care different than other providers? Inform patients on their condition and treatment options and give them hope, and a reason to return to your practice.
Inform patients on their condition
Patients appreciate being educated on their condition. They care and want to better understand what is happening and learn how you can help them. (Show them why they should trust your practice.) I like to show patients their imaging, and I use the axial cuts to point out the thickness of the ligament and the other components contributing to their condition. I break down what may be contributing to their symptoms, and I inform them on the approach we can take for their care—using either a series or combination of therapies, as needed.
Build their confidence
When introducing the mild® Procedure as a treatment option I say, "This is something that we can do very simply. The recovery time is minimal, and you can increase your mobility to becoming more functional again. You will most likely have prolonged benefits, and if you do have other symptoms, whether that's in 3 months, 6 months, 9 months, or a year—do not be concerned because we have other therapies to offer you." This gives patients the faith that they need, and they will continue to come to your practice for care. If they need additional help in the future, they will come back to your practice. Remember to explain how the mild® Procedure differs from traditional open surgery. Patients coming to you from a surgical consult may be hesitant to move forward with any sort of intervention beyond an injection. I find that explaining to patients how the mild® Procedure works, and informing them that it is an outpatient procedure, with risks no different than an ESI, that doesn't require general anesthesia, opioids, hospital stay or a long recovery time, helps my patients to quickly gain comfort and feel relieved as they learn about an evidence-based alternative approach.
ADAPT: Is the treatment effective and meeting the patient's expectations? Adapt to patient outcomes and situations that may arise to optimize their care.
Adapt & supplement patient care, as needed
2-3 weeks after your first initial ESI, be sure your practice follows-up with patients to assess their outcomes. If you thought the ESI would be effective for a patient, but it wasn't, be sure to remind the patient of the next steps so they come in to get continued care (and you don't lose them to another practice). After the mild® Procedure, be sure the patient knows to come back if they are experiencing any recurring or new pain. Because lumbar spinal stenosis is typically a comorbid condition, other pain generators may also need attention. Additional interventional strategies can be utilized after the mild® Procedure, as it doesn't burn any bridges or eliminate future treatment options.
Consider limitations, like COVID vaccination steroid limitations
Like the rest of the world, the pandemic has also required interventional pain management practices to adapt. Our patients are now getting vaccinated, which we are recommending a two-week delay in any type of steroid injection. I have had to rearrange and coordinate schedules for patients who are close to having a vaccine or have already been vaccinated; the mild® Procedure is a great option for this population, as it removes the source of the problem without reliance on steroids. Offer mild® and do not delay care!
---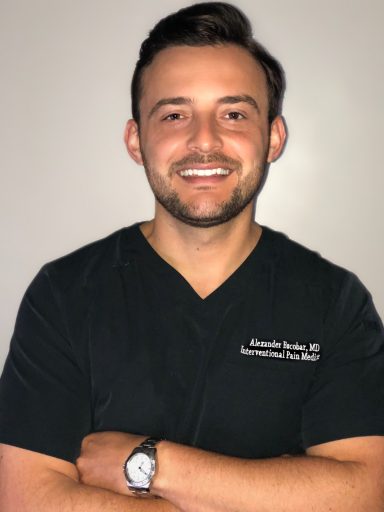 About Dr. Alexander Escobar
Alexander Escobar is an Anesthesiologist and Interventional Pain Physician Fellowship trained in Pain Medicine at the Cleveland Clinic with board certifications in Anesthesia and Pain Medicine. Dr. Escobar currently serves as the Clinical Assistant Professor of Anesthesiology and Pain Medicine at The University of Toledo, where he trains residents and fellows, as well as Co-Medical Director at Comprehensive Centers for Pain Management in Ohio. Dr. Escobar is a member of the American Society of Pain & Neuroscience (ASPN), American Society of Anesthesiologists (ASA), North American Neuromodulation Society (NANS), Ohio Society of Interventional Pain Physicians (OHSIPP) and American Society of Interventional Pain Physicians (ASIPP).
---
The views and opinions expressed in this article are those of the author and do not necessarily reflect the official policy or position of Vertos Medical. This material is provided for guidance and/or illustrative purposes only and should not be construed as a guarantee of future results or a substitution for legal advice and/or medical advice from a healthcare provider. This material is provided for general educational purposes only and should not be considered the exclusive source for this type of information. Vertos Medical does not practice medicine and assumes no responsibility for the administration of patient care. At all times, it is the professional responsibility of the practice or clinical practitioner to exercise independent judgment. Results may vary.