Move to mild® and Help Patients Avoid "Epidural Exhaustion"
Author— Jason Pope, MD, Evolve Restorative Center; with support from Heidi Younan, Director of Patient Marketing and Practice Integration at Vertos Medical Published July 19, 2021
Physicians and practices treating lumbar spinal stenosis (LSS) patients with epidural steroid injections (ESIs) will likely recognize a common "condition" among serial ESI patients that our practice typically refers to as "Epidural Exhaustion." Epidural Exhaustion is typically seen in patients who have tried multiple injections but have experienced only short-term functional improvements with little to no pain relief. Many times, LSS patients who do not improve after a single ESI or series of ESIs can become frustrated, or begin to lose hope in ever feeling relief from their spinal stenosis symptoms.
While "Epidural Exhaustion" is remarkably common among lumbar spinal stenosis (LSS) patients, it is avoidable. In our practice, we have found that moving to mild® (Minimally Invasive Lumbar Decompression) earlier in the patient journey helps drive positive long-term clinical outcomes and stronger patient satisfaction. Today, we have changed our practice workflows to move more patients to mild® after their first failed ESI. We proactively communicate the benefits of the mild® Procedure to our patients at the time of diagnosis or before they begin their treatment journey in our practice, so that they understand the breadth of their treatment options. With the availability of mild® as an early treatment option for more spinal stenosis patients, we can reduce incidences of ESI exhaustion and put more of our LSS patients on the path to long-term relief.
Challenging the status quo around serial ESIs
Although repetitive epidural steroid injections are still the standard of care in many practices and instilled during our training, the data show that serial ESIs offer little benefit to long-term patient outcomes.
As noted by Heidi Younan, Director of Patient Marketing & Practice Integration at Vertos Medical, we already know that epidurals are not capable of "curing" neurogenic claudication, which is present in 94% of patients with lumbar spinal stenosis. While repetitive ESIs deliver some chemical benefit and can offer transient, temporary relief for radicular components, ESIs do not address a major root cause of stenosis. Decompression is required to reduce narrowing/triangulation and relieve pressure in the central canal.
Friedly et al: "Repeated epidural injections offer no additional benefit"
A 2016 study conducted by Janna L. Friedly et al., studied the overall long-term effectiveness of treatment with epidural corticosteroid injections for lumbar central spinal stenosis and the effect of repeat injections on LSS patient outcomes through 12 months. The multicenter, double-blind, randomized, controlled trial with 400 patients concluded that repeated epidural injections offer no additional benefit if injections in the first 6 weeks did not improve pain. Therefore, performing multiple ESIs on patients who did not benefit from the initial injection is essentially delaying treatment that can provide beneficial and long-term outcomes.
Move to mild®: Clinical Benefits
Because of its effectiveness and safety profile, I strongly recommend moving to mild® earlier in the patient journey, after the first failed ESI. Recognizing that up to 85% of spinal canal narrowing is the result of hypertrophic ligamentum flavum (HLF), there is tremendous benefit in being able to debulk the HLF and restore space in the spinal canal, thus reducing compression of the nerves. The minimally invasive mild® Procedure enables our practice to offer a treatment option that is a step up from ESIs with the same low complication rate, but with excellent effectiveness and lasting results.
Ms. Younan also highlights that clinical studies of mild® have demonstrated clinically meaningful, statistically significant improvements in mobility, Oswestry Disability Index (ODI), and pain reduction on the numeric pain rating scale (NPRS). More recent 5-year data shows that after undergoing the mild® Procedure, only 12% of patients required surgical decompression at the same level over 5 years. Stated differently, mild® gives the potential to help 88% of patients avoid surgical decompression surgery for at least 5 years, while providing symptomatic relief during that time.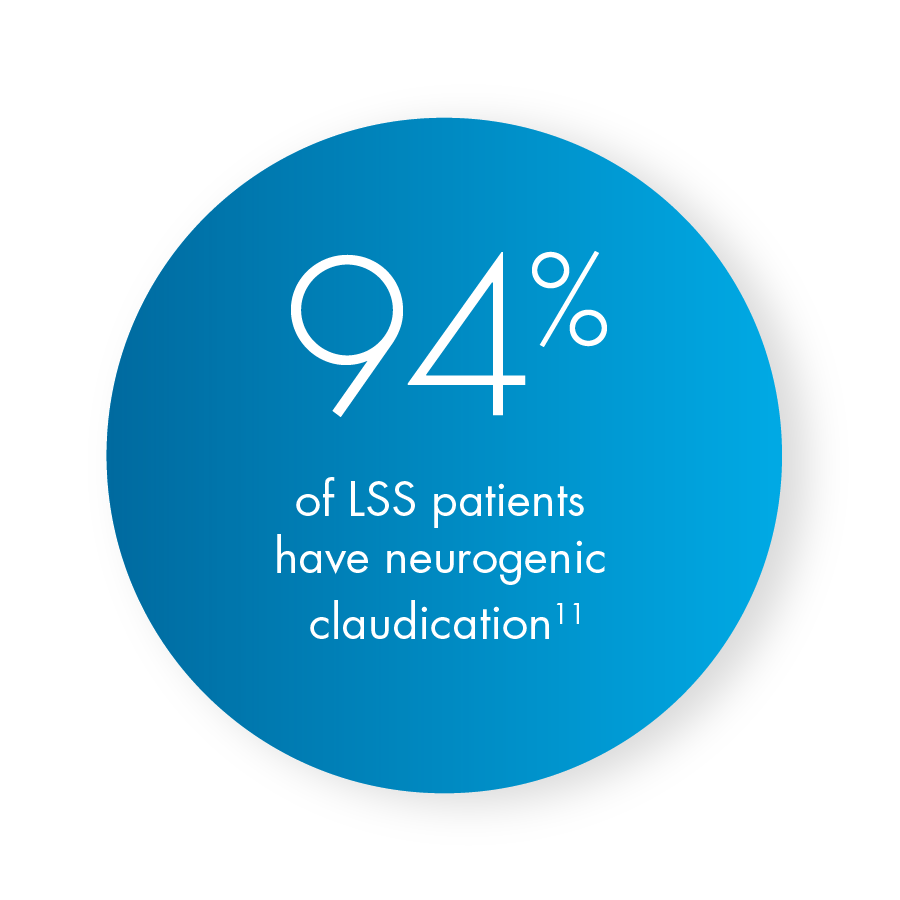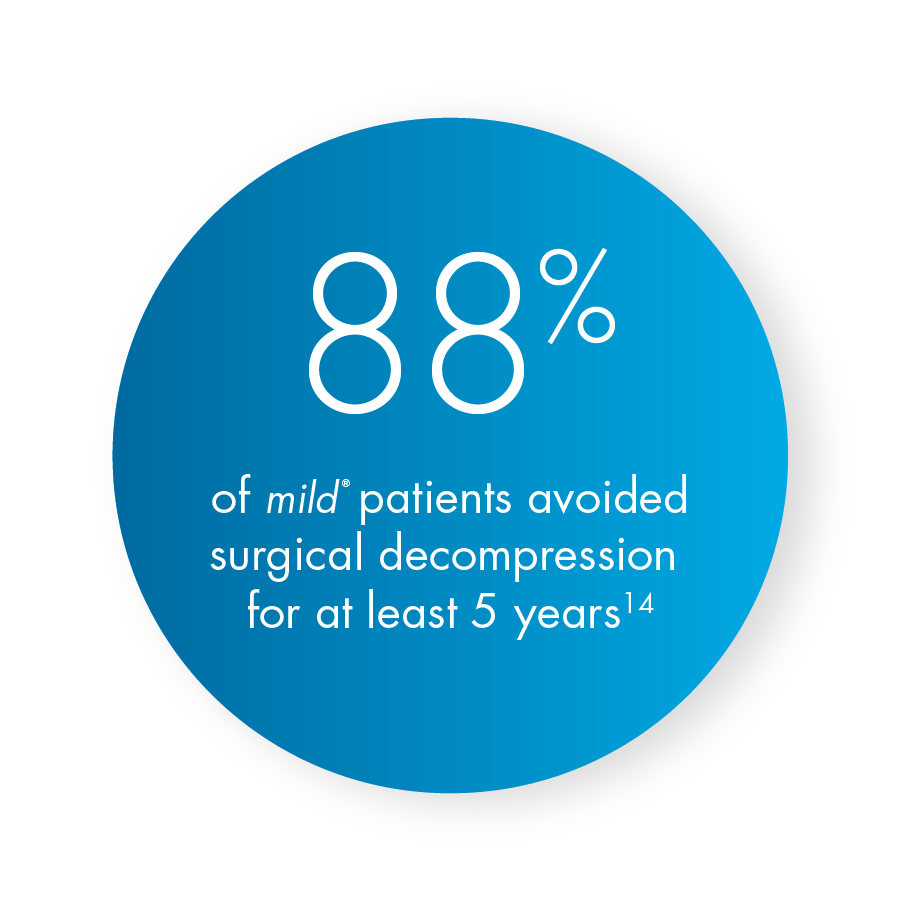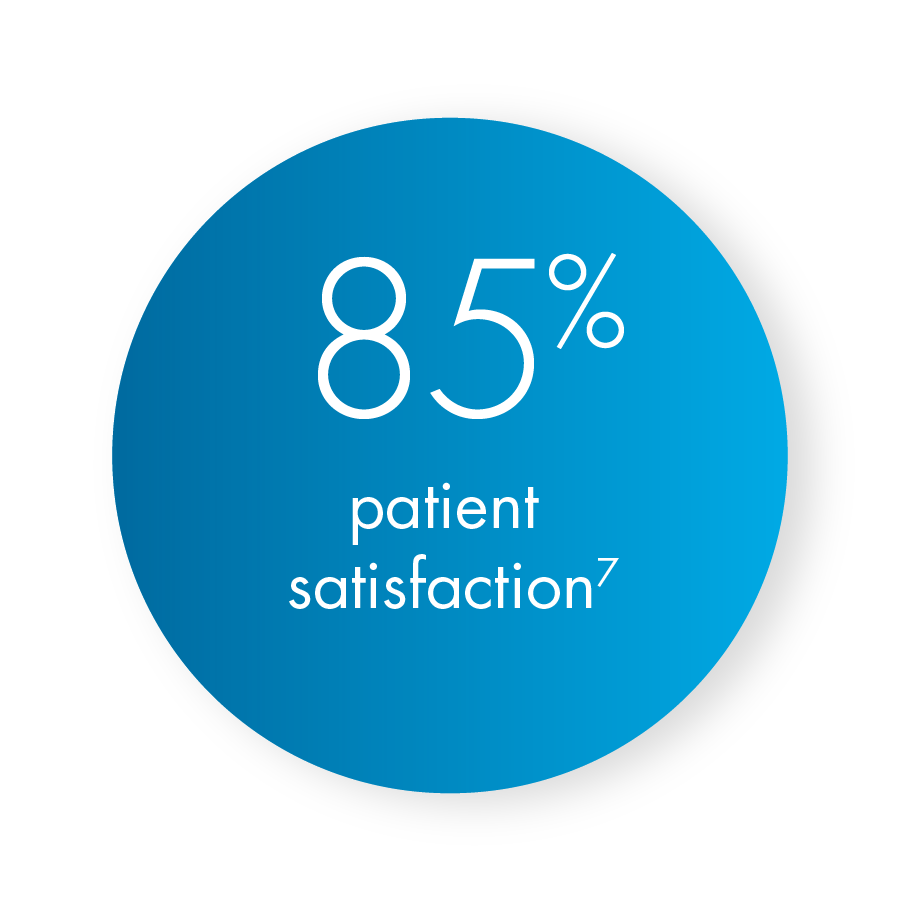 Move to mild®: Practice Benefits
Beyond the individual clinical benefits, I also advise other pain specialists that there are many practice-driven reasons to offer mild® in lieu of serial epidural steroid injections. The MiDAS ENCORE level 1 data demonstrated an exceptionally high 85% patient satisfaction rate among patients who received the mild® Procedure. Patient satisfaction is a key benchmark in our practice. With the mild® Procedure, we have seen tremendous patient satisfaction, and we know that those patients tell their friends, relatives, and neighbors about their positive results, which increases word-of-mouth to our practice.
The right patient. The right treatment. The right time.
My goal as a physician is always to assess where the patient is in their treatment journey, the impact of lumbar spinal stenosis symptoms on their lifestyle, their priorities for the procedure (such as a minimally invasive approach or a short recovery time), and their treatment history to determine the best path forward for that individual.
This purpose of this article is certainly not to challenge any and all use of ESIs within the modern pain or spine practice. ESIs can be an effective tool and are a critical part of our practice armamentarium. For some patients, ESIs offer significant benefits; however, evidence and experience demonstrate that ESIs are not a one-size-fits-all solution. Many patients with LSS fail to achieve significant pain reduction, while others who do experience pain reduction or functional improvements find those benefits to have limited durability.
In our practice, we still commonly begin a lumbar spinal stenosis treatment plan with a conservative approach to determine if an ESI will effectively reduce the symptoms of LSS. Once we understand how our patient responds to an ESI, we can determine the best treatment plan for the patient. If they have a good result with an ESI, we suggest that they resume normal activities and self-monitor for changes over time. On the other hand, if they do not see significant benefit from the initial ESI, I will strongly consider them as a candidate for mild®, and barring any contraindications, we typically schedule their mild® Procedure within a few weeks.
Accelerating Our Assessment of Epidural Efficacy
A powerful message for patients looking for significant relief is that we will start their LSS treatment with an ESI, but we'll also be able to know very quickly if the epidural steroid injection is going to be successful for them. When patients understand that they have other minimally invasive, nonsurgical options, they may be less concerned if they experience limited relief from their first ESI.
The key question is, "At what point can we reliably assess whether an individual patient will benefit from serial ESIs?" Here again, we can look to the Friedly data showing that repeated epidural injections offered no additional long-term benefit if injections in the first 6 weeks did not improve pain. Based on this data and the results we've seen first-hand in our own practice, we know that we can assess our LSS patient results post-ESI and determine whether we should move them to mild® earlier in their treatment journey.
Our Lumbar Spinal Stenosis Patient Workflow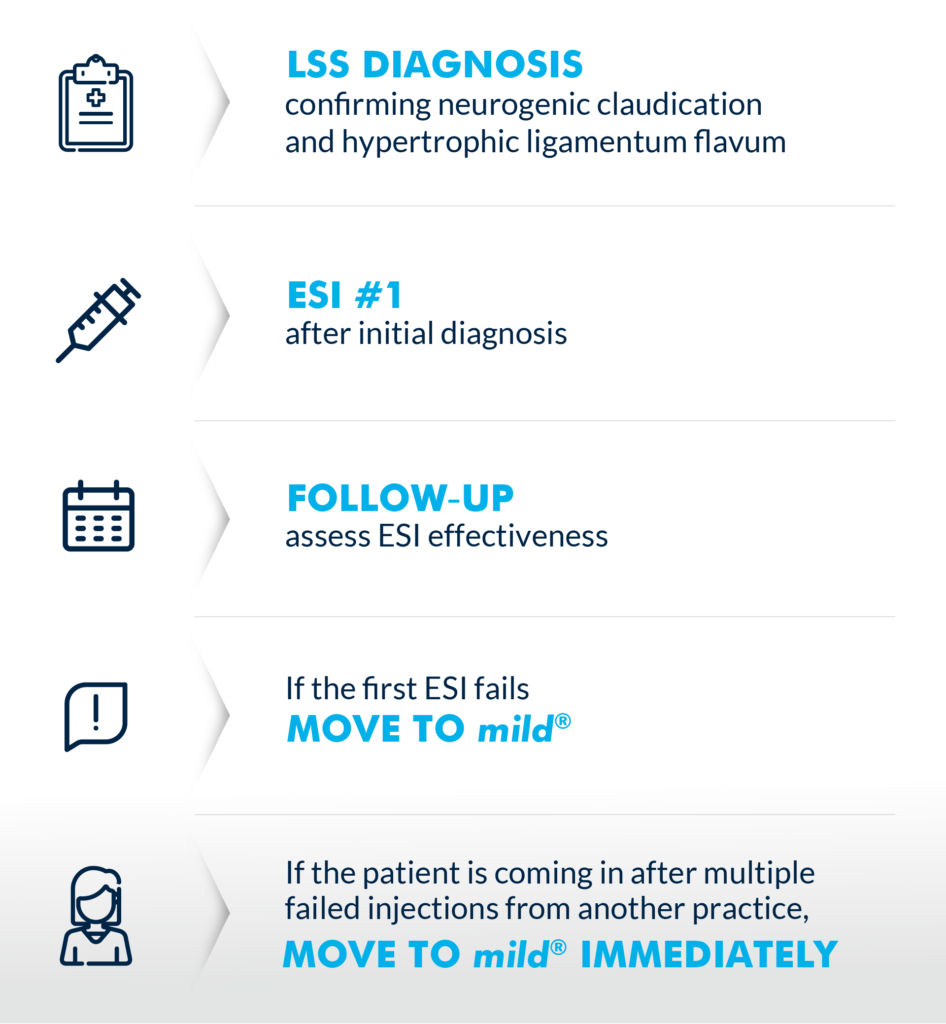 (Graphic courtesy of Vertos Medical)
Starting with mild® in mind
One of the most significant ways our practice has shifted after the adoption of mild® is that we now evaluate most patients as potential mild® candidates. If we suspect LSS, we present mild® as a treatment option from the start. In making this shift, we have discovered a few clinical and workflow pearls that optimize success across the practice.
1. Train staff to recognize patient symptoms
Because LSS is especially common among adults over 60 years of age, and our practice treats a high volume of senior patients, we have found that many of our existing and new patients are excellent candidates for mild®.
Our practice trains our APPs and other support staff so they can immediately recognize the signs and symptoms of LSS independently. Of course, we ultimately diagnose LSS and neurogenic claudication with the support of imaging, but I always remind our staff and patients that imaging can't show pain. As a healthcare team, we need to be proactively asking questions like, "Does hunching forward significantly relieve the pain you're feeling?" or "Do you feel pain in your back and legs when standing or walking?" If the answer to either question is yes, we know there's a good chance that patient may be candidate for mild®.
Younan also notes that the Vertos team has developed resources and training to support APPs. All resources are available through your Vertos sales representative.
2. Look for the ligament
When reviewing a patient's MRIs/CTs, a simple rule we use is "look for the ligament." Hypertrophic ligamentum flavum is a common problem that contributes up to 85% of spinal canal narrowing. We have trained our APPs to apply this rule while reviewing images to help identify patients who may benefit from the mild® Procedure.

In the image, the thickened ligament can be seen clearly, resulting in compression of the spinal cord nerves.
3. Present mild® in your initial LSS treatment plan
When we work with patients, we make sure they know that our focus is on improving their functionality and reducing pain. We are clear from the start that we're going to evaluate their symptoms, treatment history, and goals to determine their best treatment pathway based on the latest evidence and techniques.
Patients are generally open to the idea that a therapy that works for one patient might not work for them. So, I typically tell the patient, "We are going to start with a single epidural, and we'll be able to know quickly if the epidural is going to be effective for you." I also let them know that if they do not experience a significant improvement after the epidural, or if those results wear off after a short period, we can still help them with proven, minimally invasive options. Then, I tell them about the mild® Procedure, and how it offers a safety profile similar to an epidural, but with lasting results.
By presenting mild® as part of the treatment plan from the start, patients have more confidence that we are going to be proactive in their care and make sure they have the opportunity to access advanced LSS treatment options that offer excellent outcomes.
Overall, the addition of mild® has been a real game-changer in our practice. We see mild® as a safe and effective alternative to serial ESIs that drive long-term patient improvements and high patient satisfaction—a treatment we make available to as many patients as possible, as early as possible. I regularly tell other interventional pain specialists to incorporate mild® in their practice, and once they see the impact it has on their patients, they understand why we are so passionate about moving to mild® after failure of the first ESI.
About Heidi Younan
Heidi Younan is the Director of Patient Marketing & Practice Integration at Vertos Medical. A critical member of the Vertos team for over a decade, Ms. Younan works with clinicians, APPs, and patients to support the successful integration of the mild® Procedure in pain practices and help more patients experience the life-changing benefits of mild®. Ms. Younan also contributed portions of the clinical content within this article.