Vertos Medical and The Harris Poll Share Research Abstract at AAPOR Conference
Published July 13, 2023
For individuals of any age, mobility is a central wellness indicator that can dramatically impact quality of life. Limited mobility may impact not only physical health and fitness, but also a wide variety of quality-of-life measures, including mental and emotional well-being, social engagement, and access to cultural and recreational experiences.
Despite the importance of mobility, large-scale research that demonstrated how limited mobility due to chronic low back pain (CLBP) impacts patients — relative to their non-CLBP peers — did not exist until recently.
To help more patients suffering from CLBP improve their mobility and quality of life, Vertos Medical, in partnership with leaders in interventional pain management, joined forces with The Harris Poll to understand and educate the public about its impact.
Through their groundbreaking work, an entirely new quality-of-life metric, known as the Mobility Index, was developed. This index can help patients suffering from CLBP understand how their mobility compares to others in their age group who do not experience CLBP.
By combining self-reported data on physical abilities, mobility-related statements, and the completion of everyday tasks, the poll results and Mobility Index offer never-before-available perspectives on how extensively CLBP impacts individuals' quality of life.
On May 11, 2023, Edward "Paul" Johnson, Vice President of Advanced Analytics from The Harris Poll, and Peter Pryzbylkowski, MD, interventional pain specialist, presented an abstract about the poll data and Mobility Index, "Getting America Mobile: Ways to Improve American Quality of Life," at the 78th annual American Association for Public Opinion Research (AAPOR) conference.
During the session, the presenters outlined 3 primary goals that guided the development of the survey:
To establish an index of the average American's mobility that could be tracked over time.
To assess the impact of CLBP on mobility and quality of life compared to other common chronic conditions.
To measure awareness of treatment options for CLBP, lumbar spinal stenosis (LSS) in particular, and how patients can overcome barriers to treatment.
Behind the Mobility Index: Methodology and Findings
To gauge the impact of a range of health conditions on mobility, including chronic low back pain, a survey was conducted across a diverse sample of over 5,000 adults from non-probability, opt-in panels in the United States.
The collected data was carefully weighted by various demographic factors such as age, gender, race/ethnicity, region, education, household income, household size, and marital status to ensure its representativeness according to the 2021 Current Population Survey.
Among the several health conditions investigated, CLBP emerged as the most prominent cause of decreased mobility, even surpassing prevalent conditions such as anxiety, arthritis, and obesity.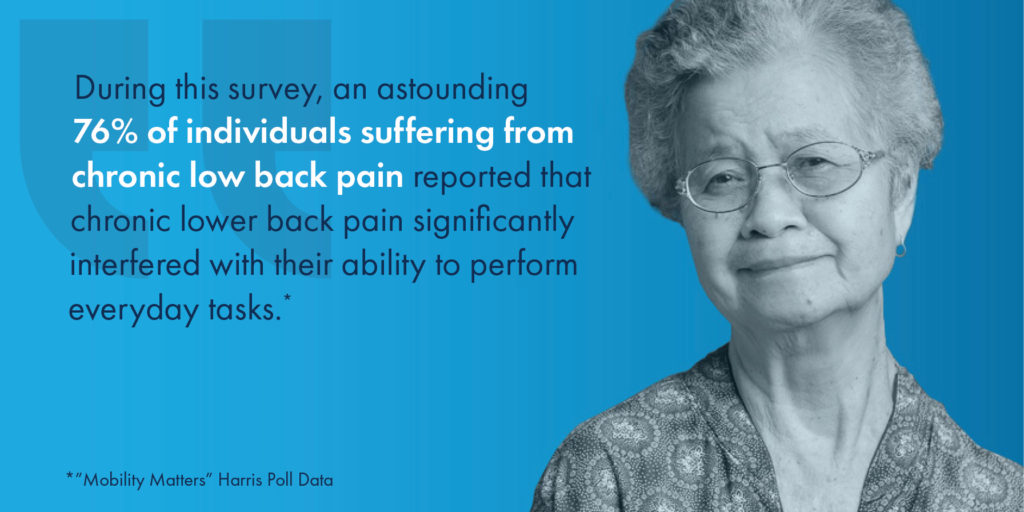 Mobility Through the Decades
In addition to its utility in measuring mobility and quality of life, the Mobility Index was designed to show patients living with CLBP how they could be moving through the decades of life differently if chronic low back or leg pain was not a limiting factor.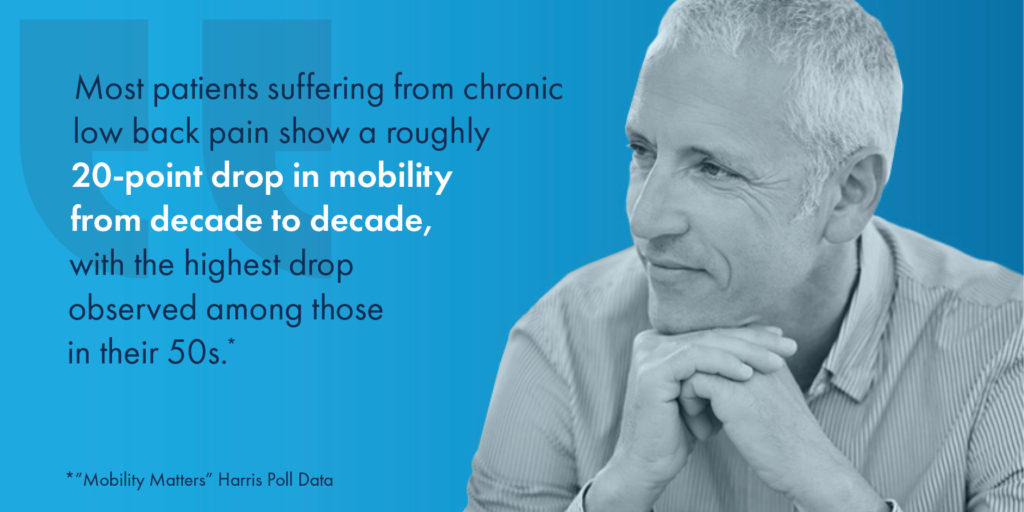 Over- and Under-Utilization of Alternative Treatments
Another concerning disparity revealed in the study was between the prevalence of chronic low back pain and the effectiveness of the most commonly utilized treatment or pain management options.
According to the survey results, up to 15 percent of individuals with CLBP were still relying on opioids , despite updated guidelines from the U.S. Centers for Disease Control (CDC) emphasizing their limited effectiveness and inherent risks.*
Another significant finding was that a mere 5 percent of individuals with CLBP had utilized minimally invasive lumbar decompression treatment options such as the mild® Procedure, despite research indicating that these procedures are highly effective and should be considered earlier in the treatment process.
See More Findings From the Survey
Raising Awareness Through the Mobility Matters Survey
The findings of the Mobility Matters survey were instrumental not only in the development of the Mobility Index but in starting a national public health conversation that spreads awareness about the impacts of CLBP and quality of life.
According to the survey, physicians appear to discuss osteoarthritis or aging as potential causes of CLBP more often than lumbar spinal stenosis, particularly the enlarged ligament that can cause LSS.
By raising awareness about LSS among providers and providing education on the treatment options available for patients suffering from the condition, more patients could get on the path to lasting relief sooner.
"What we found [through the survey] was that CLBP was really a limiting factor when it came to the ability for patients to walk and stand for a prolonged period of time," Dr. Pryzbylkowski said.
"And that's important because there are board-certified physicians like myself who treat chronic low back pain on a daily basis. And we just want to bring education and awareness to the general public that there are treatment options for CLBP."
Through the insights gathered in the Mobility Matters survey, patients, healthcare providers, and policymakers can all gain greater knowledge about the effectiveness of alternative treatment options, the risks associated with opioid use, and the importance of early intervention for CLBP.
Learn more about the Mobility Index and Mobility Matters survey at:
Read the Abstract
References
*Centers for Disease Control and Prevention. Acute low back pain. https://www.cdc.gov/acute-pain/low-back-pain/index.html. Accessed July 21, 2022.