ASPN Data and Panel Discussion Support mild® as a First Line Therapy
Published September 3, 2021
At the American Society of Pain and Neuroscience (ASPN) 2021 meeting in Miami, several abstracts highlighted recent data that supports use of the mild® Procedure as a first line therapy. Additionally, a panel of prominent Interventional Pain Physicians convened to discuss their experiences and clinical pearls for implementing the mild® Procedure in their practices. The consensus? The abstract authors and panelists repeatedly confirmed the rationale, supporting evidence, and benefits of moving to mild® as a first line therapy for lumbar spinal stenosis (LSS).
What's driving the MOVE2mild® among leading clinicians?
According to information presented at ASPN, mild® is continuing to be validated as an ideal procedure for LSS patients with neurogenic claudication for several key reasons:
A broad base of treatable patients in pain practices and the community
Refined techniques that enhance procedure efficiency
Positive patient and practice impact
MOVE2mild® by recognizing LSS patient candidates in your practice
4 speakers on the panel, Drs. Navdeep Jassal, Mark Coleman, Lindsay Shroyer, and David Dickerson, each spoke to the broad patient base that is appropriate for the mild® Procedure.
Dr. Navdeep Jassal: Look for the ligament
"For percutaneous image-guided lumbar decompression, any patient with 2.5 millimeters of ligamentum flavum hypertrophy, whether they have central stenosis or lateral stenosis, is a candidate and may achieve pain relief and functional improvement…that's where I start. The indications are very clear."
Dr. Mark Coleman: Treat multilevel stenosis with the Streamlined Technique
"The fact that they have multilevel disease would lead you towards doing a mild®. A lot of folks were afraid of mild® because of excess radiation, but we can now do these procedures in a fraction of the time that it took in the past. Being able to treat multiple levels of stenosis opens mild® as an option for many more patients."
Dr. Lindsay Shroyer: No limits around scoliosis
"For these procedures, positioning is everything. If you start the procedure with the patient well-positioned, you should be able to access the level you are targeting. Even if you are taking some of the ligament on the opposite side, that can produce good outcomes for the patient. So, for scoliotic curve, there's not really a maximum or a minimum."
Dr. David Dickerson: Focus on patients with comorbidities
"This is an elderly patient population. A lot of patients have comorbidities or may be on blood thinners that make them poor candidates for surgery. Why not start with mild®? The excellent safety profile of mild® makes it an excellent option and a procedure I offer to so many of my patients that have lumbar spinal stenosis."
MOVE2mild® with refined techniques to enhance procedure efficiency
Clinical approaches that support delivery of the mild® Procedure faster, with less radiation, were a significant focus of the discussions at ASPN. Several leading physicians participated in a clinical study presented by Dr. Dawood Sayed that evaluated the safety and efficacy of the Streamlined Technique compared to the Standard Technique for the Percutaneous Image-Guided Lumbar Decompression (PILD) Procedure.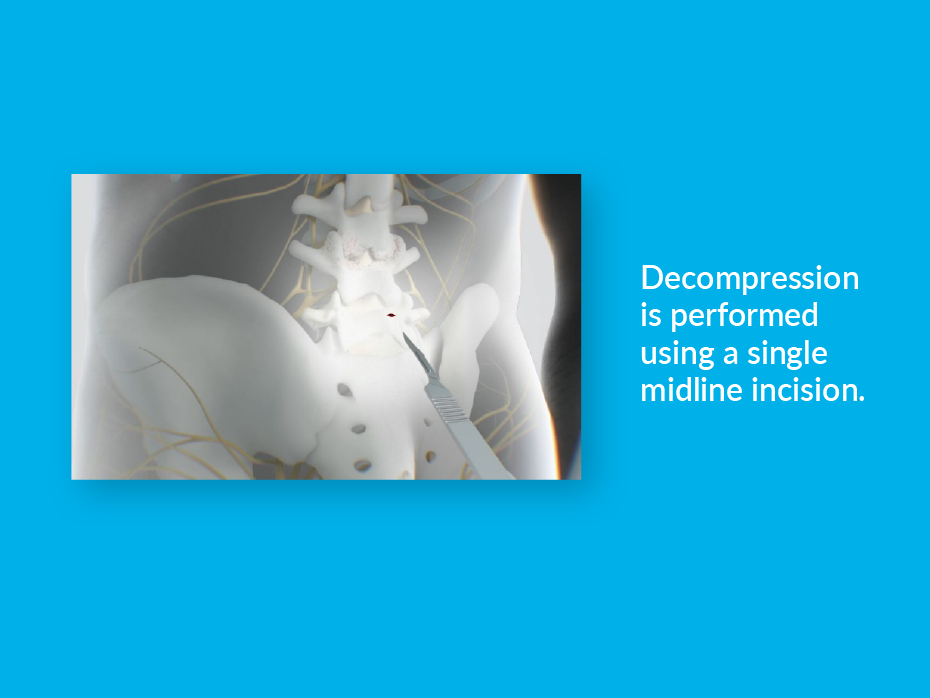 Their results demonstrated:
No significant differences in VAS scores between the 2 techniques
No complications with either technique
In a separate study, Dr. Navdeep Jassal and APP Christine Christensen, MSN, APRN similarly concluded that the Streamlined Technique is a more minimally invasive procedural approach for mild® and is comparable in safety to the Standard Approach, with no increased risk of serious postoperative complications to the patient. Based on this finding, they suggested mild® should be considered the first-line intervention for patients with lumbar spinal stenosis (at least 2.5 mm of hypertrophic ligamentum flavum) and neurogenic claudication after the first epidural steroid injection (ESI) fails.
Finally, Drs. Jason Pope, Timothy Deer, and Steven Falowski submitted a poster investigating the safety of using osteal landmarks instead of an epidurogram to establish a visual safety barrier prior to decompression with mild®. Based on zero complications reported across all 147 patients participating in the study, they assert that an epidurogram is not necessary for safe decompression with the mild® Procedure. Contralateral oblique view of the epidural line provides a clear view of the lamina and osteal landmarks, enabling identification of the targeted location for decompression.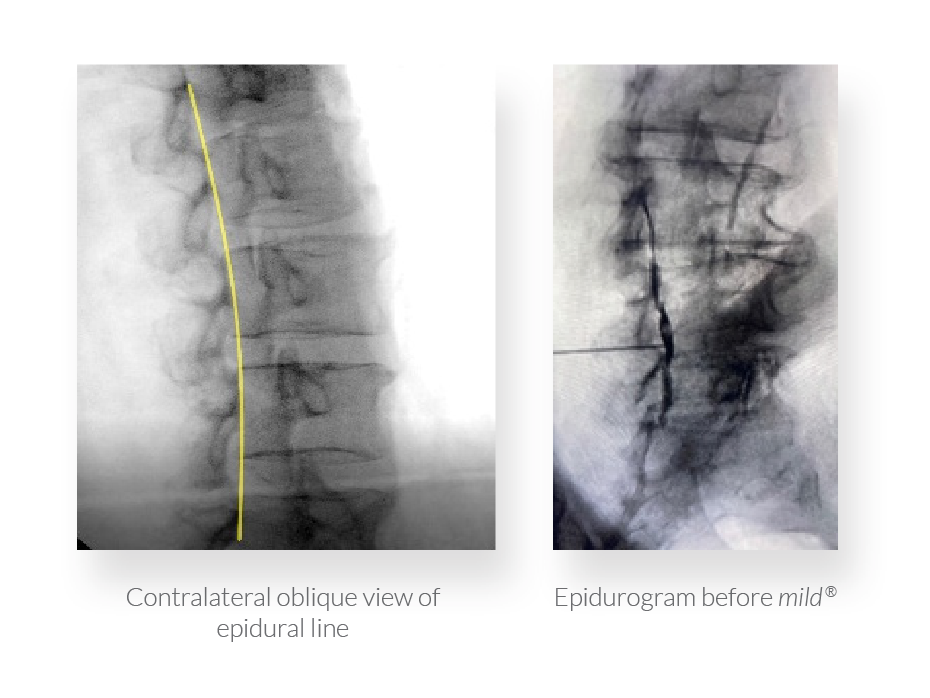 MOVE2mild® together to drive positive patient and practice impact
Across the panel, numerous speakers highlighted the particular benefits of mild® to patients and urged early integration of mild® in the treatment algorithm.
Dr. Lindsay Shroyer: Happy patients tell their friends
"mild® has completely changed the way I practice. I implement it early in my algorithm and my patients are really happy. They don't want surgery, or may have comorbidities that mean they are not a candidate, and they are so excited about their results with mild®. They'll go out and tell their friends and neighbors, and then we have more patients coming in asking for mild®."
Dr. Peter Pryzbylkowski: Give patients a better quality of life
"When you start doing mild®, the word will spread like wildfire. I've done multiple family members who saw the results their loved ones achieved. I tell people, 'why keep doing epidural steroid injection after epidural steroid injection?' We know mild® has excellent safety. With mild®, we can give patients good, durable benefits that let them stand, walk, and enjoy a better quality of life."
Dr. Jessica Jameson: Works well in multi-discipline practices
"For pain physicians in practices that include a lot of surgeons, start by picking patients who are not good surgical candidates. There are so many patients that may not be ideal for surgery or don't want surgery that you can help. When you start there, the surgeons in your practice will see the outcomes you're able to achieve and you can expand from there. This helps smooth the practice dynamics."
Is your practice ready to MOVE2mild®?
For clinicians considering integrating mild® in their practice armamentarium, or practices already performing the mild® Procedure for failed serial ESI patients or patients who are not candidates for surgery, the data is clear: performing mild® early in the treatment algorithm can offer your LSS patients lasting functional improvements with a safety profile equivalent to ESIs.,