5-Year Study Demonstrates 88% of mild® Patients Avoided Surgical Decompression for at Least 5 Years While Experiencing Significant Symptom Relief
Published May 17, 2021
Most Minimally Invasive Lumbar Decompression (mild®) providers are very familiar with the 1-year study conducted by Nagy Mekhail, MD, PhD who, along with a team of investigators from the Department of Pain Management at the Cleveland Clinic, examined the real-world benefit of the mild® Procedure: functional improvement. The 1-year outcomes demonstrated significant functional improvement for lumbar spinal stenosis (LSS) patients in both walking distance and standing time, with continuous mean improvement at each follow-up point. The study results are remarkable, as can be viewed in the figure below.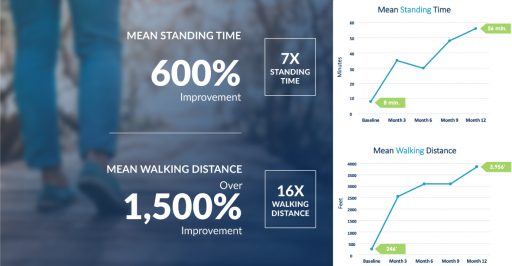 Patients clearly benefited from this type of treatment with a notable increase in function; this shows the effect the mild® Procedure had on patients who were previously unable to complete simple, everyday tasks beforehand. Now they are able to get out and enjoy life without having to sit down and rest as frequently as they did before the mild® Procedure.
New Study Demonstrates 5-Year, Long-Term Durability
The investigators at the Cleveland Clinic recently published an additional independent, retrospective cohort study which further explores the long-term durability of mild® at 5 years. They followed LSS patients receiving the mild® Procedure at the Cleveland Clinic between 2010 and 2015.
The recently published paper, The Durability of Minimally Invasive Lumbar Decompression Procedure in Patients with Symptomatic Lumbar Spinal Stenosis: Long Term Follow-Up, explores how many patients were able to avoid surgical decompression after the mild® Procedure over a five-year period. Changes in pain level using the Numeric Rating Scale (NRS) and opioid medication utilization using Morphine Milligram Equivalent (MME) dose per day from baseline to 3-, 6-, and 12-months post-mild® Procedure were also collected, along with post-procedure complications.
mild® is a minimally invasive decompression procedure that addresses a major root cause of patients' stenosis without having to undergo an invasive open surgery or leave implants behind. It has the safety profile equivalent to an epidural steroid injection (ESI), but with lasting results and is often compatible for patients with existing risk factors that, traditionally, may not be candidates for open surgery. According to the study, the mild® Procedure significantly decreased the incidence of surgical decompression at the same treatment level(s) as mild® intervention during five-year follow-up. Nine out of 75 patients required lumbar surgical decompression at the same level during the follow-up period, making the annual incidence of same-level lumbar-decompression surgery just 2.4%. Subjects experienced statistically significant pain relief and reduction of opioid medications utilization at 3, 6, and 12 months compared to baseline. There were no major complications reported.
Key Takeaways
Here are the 3 key takeaways from the 5-year study, and a link to access the full peer-reviewed articles: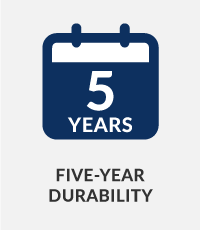 88% of patients avoided surgical decompression for at least 5 years.
"The durability of mild® over 5 years may allow elderly patients with symptomatic lumbar spinal stenosis to avoid lumbar decompression surgery while providing significant symptomatic relief."
No implants.
"The mild® Procedure allows debulking of the hypertrophic ligamentum flavum without interfering with the integrity of the bony spine, and does not require implants."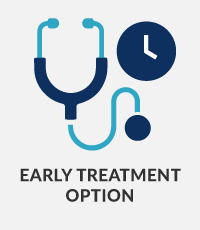 No need to delay patient care.
"Further, because the mild® procedure demonstrated durability up to 5 years, it might also be speculated with caution, that appropriate patients should be encouraged to undergo the mild® procedure as early as needed, rather than waiting until these patients are at an advanced age."
View 5-Year Paper View 1-Year Paper
---
Acknowledgments: A special thank you to the investigator and author team from the Evidence-Based Pain Management Research Group at the Cleveland Clinic: Nagy Mekhail, MD, PhD; Shrif Costandi, MD; George Nageeb, BS; Catherine Ekladios, MD; Ogena Saied, MS. Vertos Medical and the mild® patients across the country who benefit from this procedure are grateful for your care and attention in advancing the data around the safety, functional improvement, and long-term durability of mild®.