Could This Under-Diagnosed Condition Be the Cause of Your Chronic Low Back Pain?
Published December 5, 2022
If you experience chronic low back pain (CLBP), you may have questions: What's causing it? What do my symptoms mean? Will my condition worsen as I age? How can I find relief?
You're looking for answers—and you're not alone. Unlike other debilitating conditions, researchers have never truly known how many people suffer from CLBP. Until recently, many patients have been left in the dark about the cause of their pain or their options for treatment.
As revealed in the Mobility Matters: Landmark Survey on Chronic Low Back Pain in America, created in partnership with The Harris Poll, there are many misconceptions about chronic low back pain, including its potential causes, symptoms, and treatment options.
Before this survey, we didn't know which patients were suffering the most, or how the CLBP experience may change through life's decades. In this blog, we'll share the results of the survey, explore a common, yet often undiagnosed, cause of CLBP, and discuss some of the treatment options available for patients seeking relief.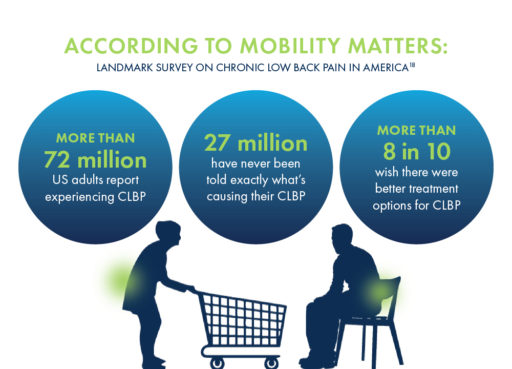 Introducing the Mobility Index
As we grow older, it can be difficult to assess which mobility challenges are a normal part of aging, and which ones may indicate a condition such as CLBP. The Mobility Index, developed as part of the national Know Your Back Story campaign, was designed to demonstrate how older adults could be moving through life if chronic low back or leg pain was not a limiting factor.
Through the Decades: How Does Your Mobility Measure Up?
Poll results show that with age, CLBP patients experience significantly greater challenges performing physical tasks and making it through the day without pain than their peers who do not suffer from low back pain.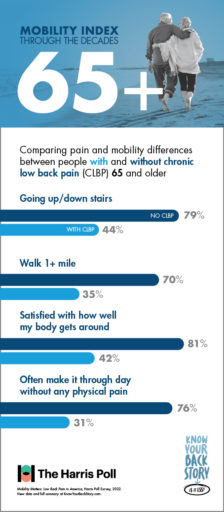 What Could You Do With Fewer Limitations?
If you're suffering from CLBP, you're already familiar with the limits your pain can put on daily tasks and activities. But do you know just how much you could be doing without these obstacles?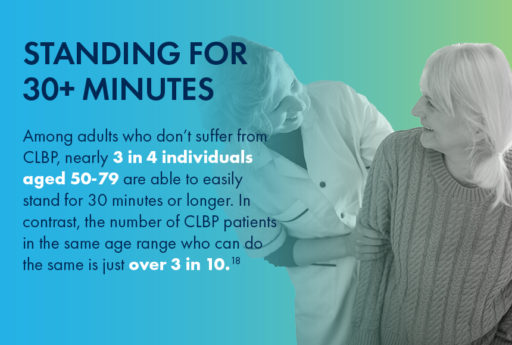 Mobility In Your 50s
For CLBP patients in their 50s, having difficulty doing physical activities that were once a regular part of life, such as walking a mile or dancing for the duration of one song, can feel especially discouraging.
For people in their 60s, there are some activities like—jogging—that aren't for everyone. Even among individuals without CLBP, only 50% of respondents in their 60s reported the ability to jog with ease. However, for patients suffering with chronic low back pain, this number plummets to only 13%.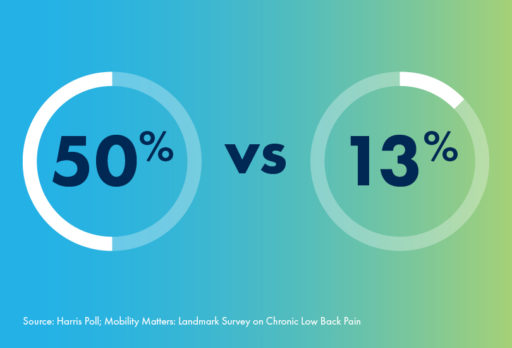 And whether jogging, walking, or doing anything else, fewer than half of CLBP patients in their 60s say they feel satisfied with how their body gets around. In contrast, 80% of 60-somethings without CLBP are satisfied with their mobility.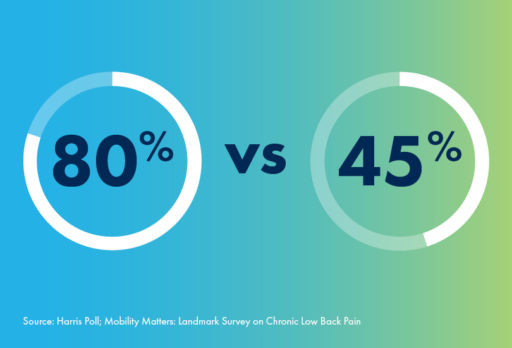 Mobility In Your 70s
Did you know that 80% of people in their 70s without CLBP are able to easily go up and down the stairs? If you are a CLBP sufferer in your 70s, you may have a much different experience, as fewer than half of CLBP patients in their 70s reported the same mobility using stairs.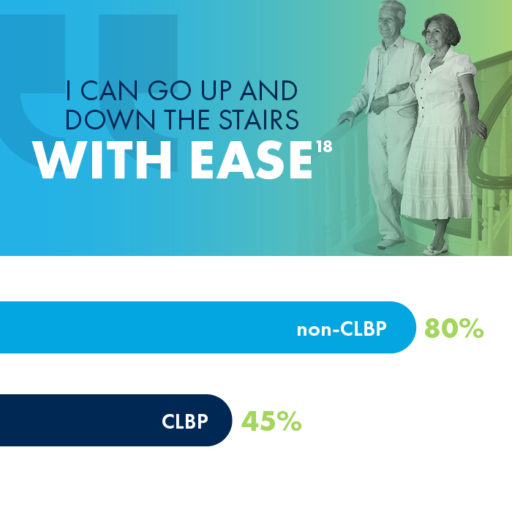 Getting up from the floor is another activity that impacts CLBP sufferers much more than their peers who don't experience chronic pain. While 66% of 70-somethings without CLBP reported ease in getting up or down from the floor, only 28% of those with CLBP were able to say the same.
Could An Enlarged Ligament Be Causing Your Low Back Pain?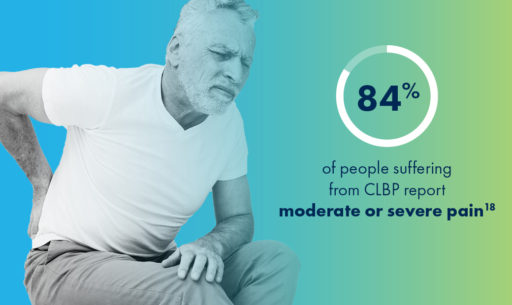 One cause of low back pain that often goes undiagnosed is an enlarged ligament, which can contribute to lumbar spinal stenosis (LSS), a common, yet overlooked, condition that millions of people may be unaware of.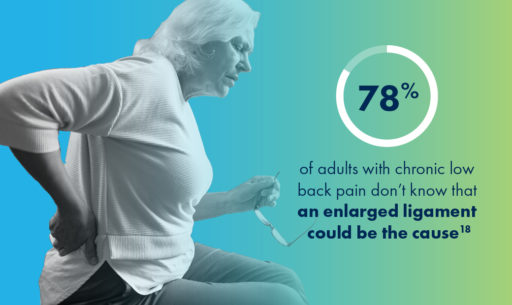 What Is Lumbar Spinal Stenosis?
Lumbar spinal stenosis (LSS) is a common, yet overlooked, condition that is prevalent in nearly 20% of patients over the age of 60.
LSS is often caused by an enlarged ligament in the back, which compresses the space in the spinal canal and puts pressure on the nerves in the lower back. This pressure around the spinal cord can cause pain, numbness, heaviness, or tingling in the low back, legs, and buttocks.
How CLBP Impacts Daily Life
Unsurprisingly, the chronic low back pain that may be caused by LSS has negative impacts on nearly every aspect of a patient's life, most commonly in their abilities to exercise, stand or walk for long periods of time, and get a good night's sleep.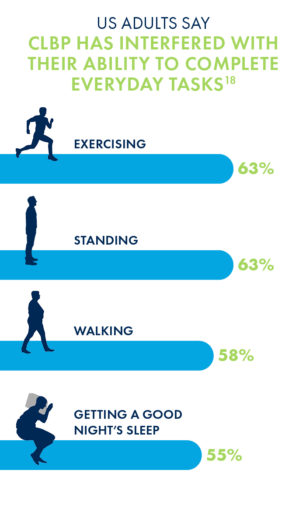 Low Back Pain & LSS Treatments
Due to its minimally invasive nature and long-lasting durability, many interventional pain management doctors are making the move to mild® as an alternative to epidural steroid injections (ESIs), which may only work in the short-term and may require repeat injections to maintain relief.
More invasive courses of treatment can include procedures such as spacer implants or open surgery, though nearly 80% of CLBP sufferers have concerns about undergoing surgery.
The mild® Procedure, or minimally invasive lumbar decompression, is considered a gold standard of care among treatments for low back pain. By addressing the root cause of pain, the enlarged ligament, mild® has helped 88% of patients avoid back surgery for at least 5 years while providing lasting relief.