Vertos Medical
News Story
South Central Regional Medical Center: Feature of the mild® Procedure
Source— scrmc.com Published March 27, 2023
View South Central Regional Medical Center's recent HealthBreak segments featuring the mild® Procedure for lumbar spinal stenosis.
SCRMC HealthBreak Segment
mild® Procedure — Posted February 27, 2023
Over 2 million people are diagnosed with lumbar spinal stenosis annually. Spinal stenosis usually presents with lower back pain when standing up straight, an aching sensation, numbness, and tingling and pain in buttocks when patients are walking. Dr. Rayhan Tariq, Interventional Pain Management physician, offers an alternative to open spine surgery known as mild® — minimally invasive lumbar decompression.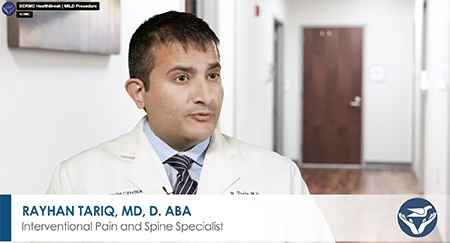 View Full Article & Video
SCRMC HealthBreak Segment
Patient Testimonial — Posted March 6, 2023
Deborah Butler's pain was at a level 9 by the time she found help at South Central Pain Center. Mrs. Butler said, "I woke up and my hip, all the way down to my knee, was in horrible pain." After meeting with various physicians and trying physical therapy, Mrs. Butler contacted Dr. Tariq to discuss alternative treatments. Together, they made the decision to perform the mild® Procedure on Mrs. Butler. Today, she states, "My pain level has decreased to a level 2, and I have regained my quality of life."
View Full Article & Video
The views and opinions expressed in this article are those of the authors/speakers and do not necessarily reflect the official policy or position of Vertos Medical.