You've Moved Beyond ESIs for Lumbar Spinal Stenosis. Does Your Community Know?
Author— David M. Dickerson, MD Published December 16, 2021
We know that mild® is a great option for the lumbar spinal stenosis (LSS) patients in your practice—but it's also a great way to differentiate your offering and attract more referrals from the community.
As mild® has gained more and more momentum—demonstrating a safety profile equivalent to epidural steroid injections, positive patient outcomes, and 5-year durability of results—our practice has made mild® a cornerstone of our LSS treatment algorithm. It's certainly rewarding to see patients regain mobility and get back on their feet. Importantly, when these cases become success stories, mild® patients, their family members, referring physicians, or physical therapists become powerful advocates in the community, driving referrals and offering compelling testimonials that build credibility, motivate new patients, and improve your community's access to this meaningful treatment.
It's important to recognize that today, many people in our communities still think about pain management in terms of medications and epidurals. As interventionalists, we have an opportunity to educate them on the wide range of services we provide and how we can not only help manage symptoms, but also restore function, improve overall health, and enhance overall quality of life. If the mild® Procedure has yet to become part of your management of lumbar spinal stenosis (LSS), my colleagues share in a recent blog post how to integrate the procedure into an LSS treatment algorithm. Here are a few steps you should consider taking to reach and attract more patients:
Help patients and referrers understand why you move to mild®
As clinicians, we are often tasked with making complex concepts accessible to our patients and other clinicians, many of whom only know LSS as "chronic low back pain" or who believe options are limited to serial epidural steroid injections or surgery.
To introduce mild®, we utilize the patient education tools to emphasize several key points:
Up to 85% of spinal canal narrowing is caused by thickened ligament
mild® addresses this major root cause of LSS by removing excess ligament tissue and leaves no implants behind
mild® restores space in the spinal canal, which reduces the compression of the nerves
If they ask why our practice moves to mild® early in the treatment algorithm, we can reference this recent clinical study, published in Pain Management, which found that:
There is no benefit to performing multiple epidural steroid injections before the mild® Procedure
Performing multiple epidural injections delays patients from receiving a longer-lasting, more effective mild® treatment
Performing the mild® Procedure immediately upon diagnosis of lumbar spinal stenosis with thickened ligament or after failure of the first epidural injection is an appropriate treatment approach
To help patients and caregivers access and engage with this information, I like to share a plain language summary document. It helps patients better understand how mild® can reduce the treatment burdens associated with frequent injections, provide lasting therapeutic results, and help our practice meet our primary goal of restoring function and achieving sustained improvement in quality of life.
The summary contextualizes key information from the study, including the findings, treatment details, study methods, and patient demographics—all using simple language and visual illustrations.
We also use the summary to educate and build relationships with referring clinicians, many of whom are unfamiliar with minimally invasive lumbar decompression, the procedure, and its impact on care protocols. The summary is written using simple language but is very detail-rich, making it a valuable resource for health stakeholders involved in collaborative care. When we send this to practices in our network, we like to strengthen the referring relationship by:
Including a personalized note briefly summarizing the mild® Procedure's impact, how it empowers us to help patients restore function and reclaim lost quality of life, and how appreciative we are of the role they play as clinicians caring for patients with symptomatic spinal stenosis
Offering to schedule a Zoom call, coffee session, or dinner to help practitioners and staff better recognize the signs of lumbar spinal stenosis in their chronic low back pain patients
Offering to drop off patient brochures, postcards, or other educational assets that can help other specialists educate patients on their candidacy for the procedure, improve their readiness for treatment, and ensure an informed, patient-centered experience from start to finish
Add educational videos to your website
In addition to sharing the plain language summary, it can be helpful to leverage educational videos on your website to further inform patients about the benefits of mild® for lumbar spinal stenosis.
The patient video provides an excellent overview of both LSS and mild®.
To help patients find the information they're looking for, create a video summary that describes the information the patient is about to see. The shorter and more concise the description, the better. You can include specific details on the benefits of mild® leading with the key points patients care most about:
Safety profile similar to an epidural steroid injection
Incision smaller than the size of a baby aspirin (5.1mm)
No implants left behind, only a small bandage over the puncture site
Patients typically resume normal activity within 24 hours with no restrictions
Showcase patient success stories and positive clinical outcomes
Success stories from patients who have benefited from your spinal stenosis treatment offer a powerful and influential tool for creating patient awareness and should form a cornerstone of your outreach efforts. When a patient finally finds relief, they usually want to help other people who are suffering get back on their feet.
Document your lumbar spinal stenosis patients' treatment journeys and capture testimonials so you can share them on your website and social media platforms. Teach them how to recognize the signs of LSS in their friends and family members and encourage them to share their story.
Additionally, when working with referring care providers, implement strong post-procedure communication strategies to cultivate active, engaged partnerships. Following a mild® Procedure, we inform referring providers of their patients' results, and help them understand what the patient can expect over time.
Educate your Advanced Practice Providers (APPs)
When APPs understand that patient functionality continues to improve as time progresses, they can help manage patient expectations. APPs working within our referring clinicians' offices also appreciate frequent status updates. This often translates into additional patient referrals and better care partnerships.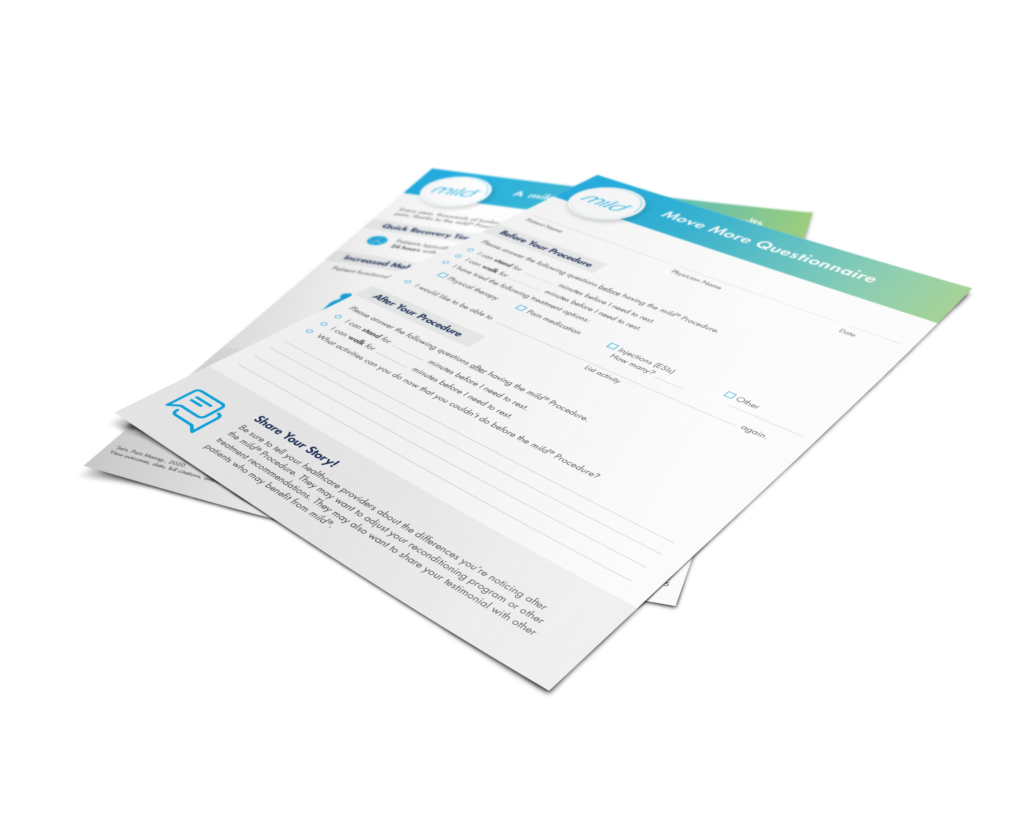 Ask your APPs to use the Move More Questionnaire to assess patient mobility before and after mild®.
The reward of serving the community
At the end of the day, our primary goal is to offer meaningful outcomes that restore function and reduce pain for patients in our community. To capture attention and positively impact more lives, it is fundamentally important that we make our communities aware of the full range of services we offer for lumbar spinal stenosis patients.
Taking this approach takes a little work but yields considerable reward. Successfully treating with mild®, using those successes to build lasting community relationships, and helping patients finally get on the path to relief, has brought our practice immense satisfaction, as well as steady increases in patients coming in to see what options we may have to treat their pain and increase their activity.