Vertos Medical
Blog, News Story
APP Leaders Take the Stage at the NYNJ Pain Medicine Symposium
Published November 23, 2021
Our esteemed advisory board members, Ashley Comer, MSN, APRN, FNP-C and Kristen Klein, AGNP-C, took the stage at the 2021 New York and New Jersey Pain Medicine Symposium: Evolving Advanced Pain Therapies.
If you missed it, here are the key takeaways from their Advanced Practice Providers (APP) educational sessions: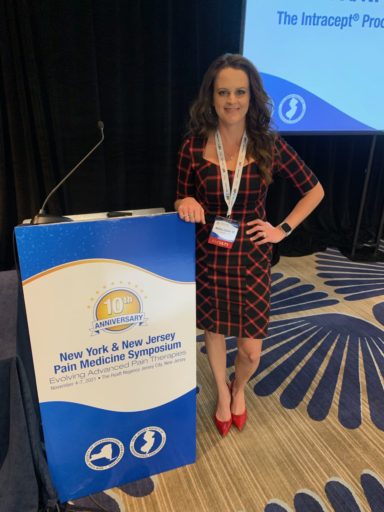 Perioperative Pain Management: Impact of COVID-19 on Clinical Practice
Ashley Comer, MSN, APRN, FNP-C
Ashley is part of a busy practice in West Virginia. When the shutdown occurred in March 2020, she immediately partnered with her office manager and spent the weekend implementing telemedicine capabilities. What they thought was problem solving to manage patients for the "2 weeks to flatten the curve," turned into a longer-term requirement and now a preferred and permanent part of the way they practice.
Telemedicine Is Here to Stay
Although in-person visits have obvious benefits, Ashley and her team have been pleasantly surprised by the advantages telemedicine provides:
Increased ability and efficiency in collecting patient history and symptoms. When patients are in their homes, they are often more comfortable and therefore more open to sharing the information needed to complete their assessment.
Reduced missed patient visits
Less time, resources, and physical demand on patients. Finding a ride, being in the car, and waiting in the reception area all take a toll on pain patients. Telemedicine removes these barriers so more patients are able to get access to Ashley and her team quicker, and with less hassle. If the patient needs to be seen, the assessment and imaging order can be done in advance. This way, when they come into the office, they are further along in their diagnosis and treatment planning, and the number of visits required are reduced.
Ability to care for patients who live further from the practice or who wish to avoid exposure to potential illnesses
Tips for Success
Ashley shared the following tips for a successful telemedicine visit with your patient:
During physical exams, don't limit your visit to audio-only. Take advantage of the video capabilities and get the patient moving so you can observe their function.

Model what you would like them to do (eg, loading positions, mobility tests)
Ask them to point and show you where they are experiencing discomfort

Use all the tools you have at your disposal, including:

Spine models
Screen sharing, which allows you to review:

Imaging
Procedure details
Digital educational materials
Professional Growth
In addition to developing a new skillset with telemedicine and increasing her adeptness around collecting the patient story, Ashley also noted a rise in APPs coming together online. She emphasized that educational webinars and social media are great sources of information and collaboration with her peers.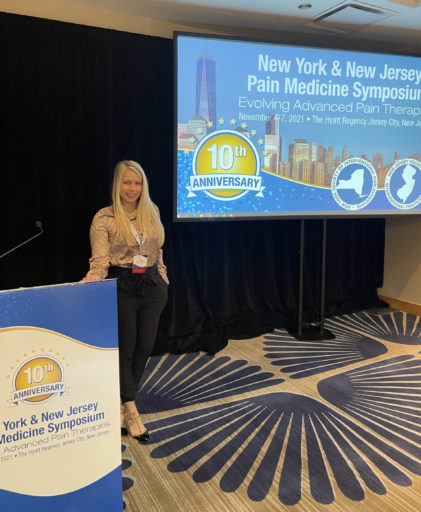 Options for Chronic Pain Control: Lumbar Spinal Stenosis, Beyond Epidurals
Kristen Klein, AGNP-C
Kristen works with a large population of Medicare-aged patients, so lumbar spinal stenosis (LSS) is a predominant condition treated in her practice. Historically, there was a gap in the treatment algorithm, so IPM practices had to choose between epidural steroid injections (ESIs) and open surgery. Now, these practices have new options, including the mild® Procedure. Kristen shared some recommendations for APPs managing mild® patients in their practice:
Patient ID
Assess patients: Neurogenic claudication (NC), known as the Shopping Cart Syndrome, presents as symptoms in the lower back, legs, and buttocks when walking or standing that are relieved with sitting or flexion—like leaning over a shopping cart
Take a good history: Patients experiencing NC often sit or reduce their mobility to avoid pain, and often associate these symptoms with just "getting older and slower." Therefore, they might express pain, but without prompting, may never mention their functional limitations or that they spend the majority of their day sitting. Spend time with patients to identify their symptoms and more importantly, their functional limitations. Ask how long they can stand/walk before they experience symptoms or need to rest, and which activities of daily life are limited by their condition.
Selection
Look at your own imaging. Don't rely on just the reports as they often don't include the full picture.
Assessment
Set patient expectations. Educate them on what to expect on procedure day and the reconditioning requirements so they know mobility improvements will happen over time, not immediately.
Don't solely focus on pain. Reference their baseline walking/standing time and their activities of daily living goals. Compare their outcomes to baseline and discuss progress and mobility goals to work towards.
Interested in learning more about APP educational opportunities?