Denis G. Patterson, MD (00:00)
Hey, this is Dr. Denis Patterson. I'm a physical medicine rehabilitation physician who specializes in interventional pain management. I am located in the greater Reno, Tahoe area. I'm the owner of Nevada Advanced Pain Specialists. I've been seeing and treating patients in the greater Reno, Tahoe area now for about 15 years, and I have to say that one of the best treatment options that I've had come around within the past decade has been the mild® Procedure.
Prior to this procedure, as an interventional pain physician, we're more trying to cover up pain or, alleviate pain, but we never really could treat the underlying pathophysiology. And so it was nice that we finally got a tool in our bag of tricks to help patients that we could actually treat their underlying pathophysiology. So, a patient with wear and tear over the years, not only are they going to get a swollen disc, swollen facet joints, but the ligamentum flavum can also encroach and push into the spinal canal. And that's what the mild® Procedure does, it allows us to have access to get between the lamina, dig out this ligamentum flavum, create a couple more millimeters of space, and in essence, probably decrease the pressure at that level in their spine and help alleviate their neurogenic claudication symptoms.
Being an advocate for this procedure, I talked to multiple physicians around the country, and one of the interesting comments that I've heard over the years is that, "Hey, I can give this or I can treat patients with this, but they can only have central canal stenosis." And so to me, these physicians are looking for what I would call is a unicorn. A unicorn is a patient who has central canal stenosis only due to the ligament being hypertrophied and that's simply not the case. When you really look back at the literature and the 2-year study that they did, the MiDAS study, what we see is only 5% of the patients in that study only had central canal stenosis. 95% of those patients had multifactorial stenosis and so that means they can have neuroforaminal stenosis, lateral recess stenosis, and central canal stenosis. And what we saw in the MiDAS study is all those patients benefited.
(02:17) But even though we have that data, over the years of training physicians in the mild® Procedure, I continue to hear, "Well they have neuroforaminal stenosis, they don't have just central canal stenosis so, I think I'm going to pick a competitive product to treat these patients instead of the mild® Procedure." So, from the MiDAS data that I had talked about earlier, we'd seen that patients with multifactorial stenosis benefited from the mild® Procedure. Myself, Dr. Pryzbylkowski, and Dr. Khemlani wanted to retrospectively look at patients who we had treated with the mild® Procedure and see if we could validate the results of [what] the MiDAS study had shown. And so we retrospectively reviewed 91 patients from our 3 clinics, and this went back to January of 2020. And what we found is that 32 of the patients that we had treated out of the 91 had no neuroforaminal narrowing. Meaning, they had central canal stenosis, which included ligamentum flavum hypertrophy, but they also could have had multifactorial pathology, including disc bulges and facet hypertrophy. And then the other 59 patients out of the 91, besides having multifactorial pathology, also had neuroforaminal narrowing. And then what we ended up doing is retrospectively looking at our results of these patients, who benefited from the mild® Procedure in these groups; did both groups, 1 group, or neither group benefit? And we looked at our results at one and three months after having the procedure done. And if you look under our results, we look at [how] both groups got significant pain reduction and response rates, what we see is that the foraminal narrowing group did better.
86% of these patients had a positive response rate, while only 75% of the patients that had no neuroforaminal narrowing had a pain reduction. So, when you first look at this, you think, "Oh God, this has got to be statistically significant that the foraminal narrowing group benefited more than the no foraminal narrowing group from the mild® Procedure." But, when you really look at the "P" value, there is no statistical significance between the 2 groups. And so the conclusion that we came to, is that patients with lumbar stenosis, with neurogenic claudication, whether they have central canal stenosis only, or they have multifactorial stenosis only, both groups can benefit from having the mild® Procedure done. And so, all physicians should know that they should not exclude patients with multifactorial stenosis from having this procedure be considered.
At the American Society of Pain and Neuroscience (ASPN) 2021 meeting in Miami, several abstracts highlighted recent data that supports use of the mild® Procedure as a first line therapy. Additionally, a panel of prominent Interventional Pain Physicians convened to discuss their experiences and clinical pearls for implementing the mild® Procedure in their practices. The consensus? The abstract authors and panelists repeatedly confirmed the rationale, supporting evidence, and benefits of moving to mild® as a first line therapy for lumbar spinal stenosis (LSS).
What's driving the MOVE2mild® among leading clinicians?
According to information presented at ASPN, mild® is continuing to be validated as an ideal procedure for LSS patients with neurogenic claudication for several key reasons:
A broad base of treatable patients in pain practices and the community
Refined techniques that enhance procedure efficiency
Positive patient and practice impact
MOVE2mild® by recognizing LSS patient candidates in your practice
4 speakers on the panel, Drs. Navdeep Jassal, Mark Coleman, Lindsay Shroyer, and David Dickerson, each spoke to the broad patient base that is appropriate for the mild® Procedure.
Dr. Navdeep Jassal: Look for the ligament
"For percutaneous image-guided lumbar decompression, any patient with 2.5 millimeters of ligamentum flavum hypertrophy, whether they have central stenosis or lateral stenosis, is a candidate and may achieve pain relief and functional improvement…that's where I start. The indications are very clear."
Dr. Mark Coleman: Treat multilevel stenosis with the Streamlined Technique
"The fact that they have multilevel disease would lead you towards doing a mild®. A lot of folks were afraid of mild® because of excess radiation, but we can now do these procedures in a fraction of the time that it took in the past. Being able to treat multiple levels of stenosis opens mild® as an option for many more patients."
Dr. Lindsay Shroyer: No limits around scoliosis
"For these procedures, positioning is everything. If you start the procedure with the patient well-positioned, you should be able to access the level you are targeting. Even if you are taking some of the ligament on the opposite side, that can produce good outcomes for the patient. So, for scoliotic curve, there's not really a maximum or a minimum."
Dr. David Dickerson: Focus on patients with comorbidities
"This is an elderly patient population. A lot of patients have comorbidities or may be on blood thinners that make them poor candidates for surgery. Why not start with mild®? The excellent safety profile of mild® makes it an excellent option and a procedure I offer to so many of my patients that have lumbar spinal stenosis."
MOVE2mild® with refined techniques to enhance procedure efficiency
Clinical approaches that support delivery of the mild® Procedure faster, with less radiation, were a significant focus of the discussions at ASPN. Several leading physicians participated in a clinical study presented by Dr. Dawood Sayed that evaluated the safety and efficacy of the Streamlined Technique compared to the Standard Technique for the Percutaneous Image-Guided Lumbar Decompression (PILD) Procedure.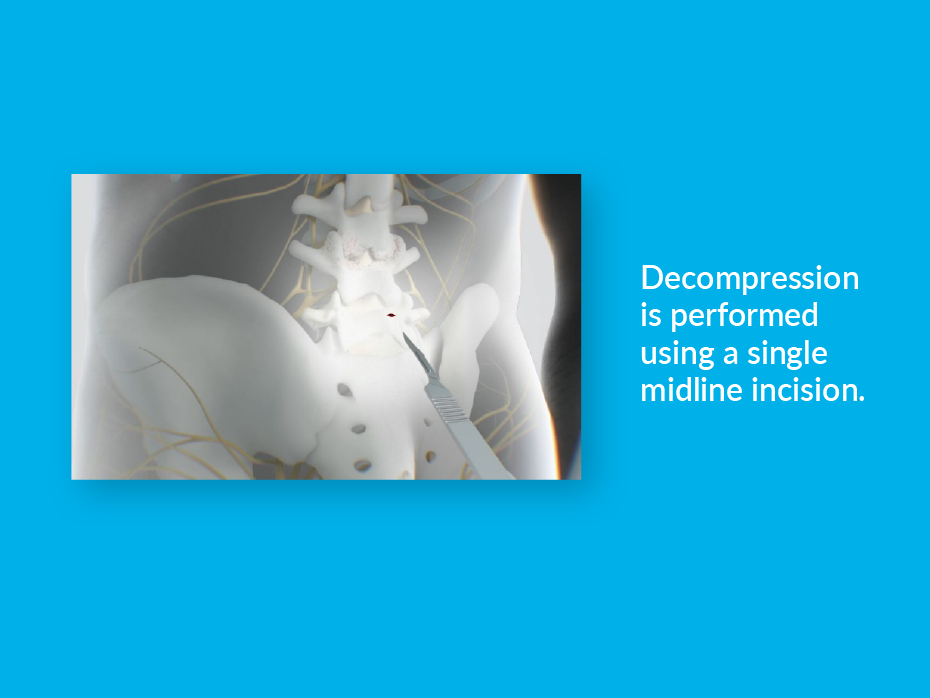 Their results demonstrated:
No significant differences in VAS scores between the 2 techniques
No complications with either technique
In a separate study, Dr. Navdeep Jassal and APP Christine Christensen, MSN, APRN similarly concluded that the Streamlined Technique is a more minimally invasive procedural approach for mild® and is comparable in safety to the Standard Approach, with no increased risk of serious postoperative complications to the patient. Based on this finding, they suggested mild® should be considered the first-line intervention for patients with lumbar spinal stenosis (at least 2.5 mm of hypertrophic ligamentum flavum) and neurogenic claudication after the first epidural steroid injection (ESI) fails.
Finally, Drs. Jason Pope, Timothy Deer, and Steven Falowski submitted a poster investigating the safety of using osteal landmarks instead of an epidurogram to establish a visual safety barrier prior to decompression with mild®. Based on zero complications reported across all 147 patients participating in the study, they assert that an epidurogram is not necessary for safe decompression with the mild® Procedure. Contralateral oblique view of the epidural line provides a clear view of the lamina and osteal landmarks, enabling identification of the targeted location for decompression.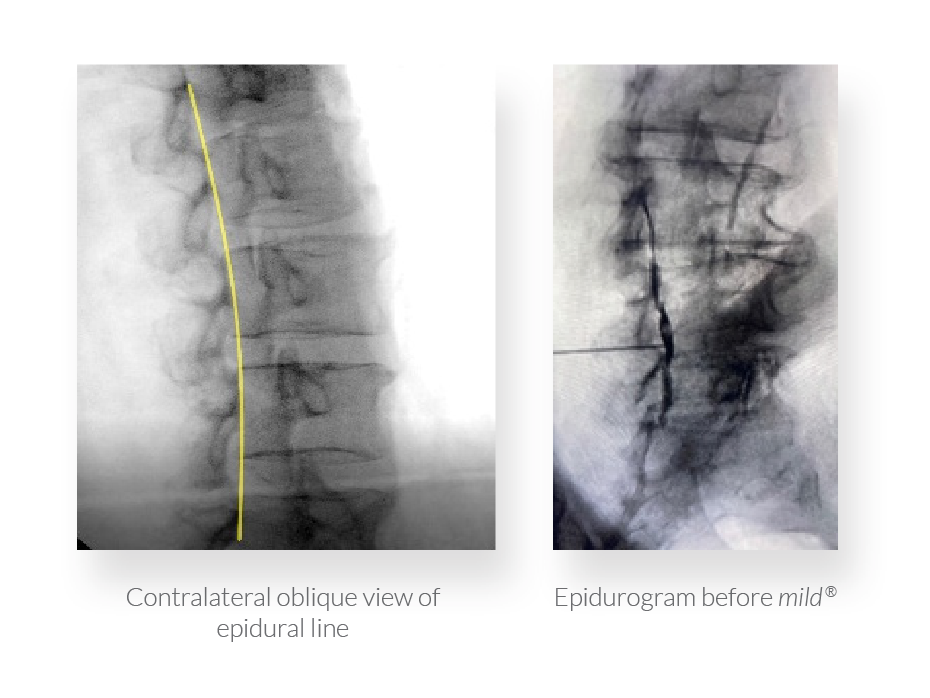 MOVE2mild® together to drive positive patient and practice impact
Across the panel, numerous speakers highlighted the particular benefits of mild® to patients and urged early integration of mild® in the treatment algorithm.
Dr. Lindsay Shroyer: Happy patients tell their friends
"mild® has completely changed the way I practice. I implement it early in my algorithm and my patients are really happy. They don't want surgery, or may have comorbidities that mean they are not a candidate, and they are so excited about their results with mild®. They'll go out and tell their friends and neighbors, and then we have more patients coming in asking for mild®."
Dr. Peter Pryzbylkowski: Give patients a better quality of life
"When you start doing mild®, the word will spread like wildfire. I've done multiple family members who saw the results their loved ones achieved. I tell people, 'why keep doing epidural steroid injection after epidural steroid injection?' We know mild® has excellent safety. With mild®, we can give patients good, durable benefits that let them stand, walk, and enjoy a better quality of life."
Dr. Jessica Jameson: Works well in multi-discipline practices
"For pain physicians in practices that include a lot of surgeons, start by picking patients who are not good surgical candidates. There are so many patients that may not be ideal for surgery or don't want surgery that you can help. When you start there, the surgeons in your practice will see the outcomes you're able to achieve and you can expand from there. This helps smooth the practice dynamics."
Is your practice ready to MOVE2mild®?
For clinicians considering integrating mild® in their practice armamentarium, or practices already performing the mild® Procedure for failed serial ESI patients or patients who are not candidates for surgery, the data is clear: performing mild® early in the treatment algorithm can offer your LSS patients lasting functional improvements with a safety profile equivalent to ESIs.,
Benyamin RM, Staats PS, MiDAS ENCORE Investigators. mild® is an effective treatment for lumbar spinal stenosis with neurogenic claudication: MiDAS ENCORE Randomized Controlled Trial. Pain Physician. 2016;19(4):229-242.
Mekhail N, Costandi S, Abraham B, Samuel SW. Functional and patient-reported outcomes in symptomatic lumbar spinal stenosis following percutaneous decompression. Pain Pract. 2012;12(6):417-425. doi:10.1111/j.1533-2500.2012.00565.x.
2012 data from Health Market Sciences report for Vertos Medical 2013.
Data on file with Vertos Medical.
Staats PS, Chafin TB, Golvac S, et al. Long-term safety and efficacy of minimally invasive lumbar decompression procedure for the treatment of lumbar spinal stenosis with neurogenic claudication: 2-year results of MiDAS ENCORE. Reg Anesth Pain Med. 2018;43:789-794. doi:10.1097/AAP.0000000000000868.
Based on mild® Procedure data collected in all clinical studies. Major complications are defined as dural tear and blood loss requiring transfusion.
MiDAS ENCORE responder data. On file with Vertos Medical.
Jain S, Deer TR, Sayed D, et al. Minimally invasive lumbar decompression: a review of indications, techniques, efficacy and safety. Pain Manag. 2020;10(5). https://doi.org/10.2217/pmt-2020-0037. Accessed June 1, 2020.
Deer TR, Grider JS, Pope JE, et al. The MIST Guidelines: the Lumbar Spinal Stenosis Consensus Group guidelines for minimally invasive spine treatment. Pain Pract. 2019;19(3)250-274. doi:10.1111/papr.12744.
Hansson T, Suzuki N, Hebelka H, Gaulitz A. The narrowing of the lumbar spinal canal during loaded MRI: the effects of the disc and ligamentum flavum. Eur Spine J. 2009;18(5):679-686. doi:10.1007/s00586-009-0919-7.
Treatment options shown are commonly offered once conservative therapies (e.g., physical therapy, pain medications, chiropractic) are not providing adequate relief. This is not intended to be a complete list of all treatments available. Doctors typically recommend treatments based on their safety profile, typically prioritizing low risk/less aggressive procedures before higher risk/more aggressive procedures, but will determine which treatments are appropriate for their patients.
Although the complication rate for the mild® Procedure is low, as with most surgical procedures, serious adverse events, some of which can be fatal, can occur, including heart attack, cardiac arrest (heart stops beating), stroke, and embolism (blood or fat that migrates to the lungs or heart). Other risks include infection and bleeding, spinal cord and nerve injury that can, in rare instances, cause paralysis. This procedure is not for everyone. Physicians should discuss potential risks with patients. For complete information regarding indications for use, warnings, precautions, and methods of use, please reference the devices' Instructions for Use.
Patient stories on this website reflect the results experienced by individuals who have undergone the mild® Procedure. Patients are not compensated for their testimonial. The mild® Procedure is intended to treat lumbar spinal stenosis (LSS) caused by ligamentum flavum hypertrophy. Although patients may experience relief from the procedure, individual results may vary. Individuals may have symptoms persist or evolve or other conditions that require ongoing medication or additional treatments. Please consult with your doctor to determine if this procedure is right for you.
Reimbursement, especially coding, is dynamic and changes every year. Laws and regulations involving reimbursement are also complex and change frequently. Providers are responsible for determining medical necessity and reporting the codes that accurately describe the work that is done and the products and procedures that are furnished to patients. For this reason, Vertos Medical strongly recommends that you consult with your payers, your specialty society, or the AMA CPT regarding coding, coverage and payment.
Vertos Medical cannot guarantee coding, coverage, or payment for products or procedures. View our Billing Guide.
Vertos is an equal employment opportunity workplace committed to pursuing and hiring a diverse workforce. We strive to grow our team with highly skilled people who share our culture and values. All qualified applicants will receive consideration for employment without regard to sex, age, color, race, religion, marital status, national origin, ancestry, sexual orientation, gender identity, physical & mental disability, medical condition, genetic information, veteran status, or any other basis protected by federal, state or local law.
Hall S, Bartleson JD, Onofrio BM, Baker HL Jr, Okazaki H, O'Duffy JD. Lumbar spinal stenosis. Clinical features, diagnostic procedures, and results of surgical treatment in 68 patients. Ann Intern Med. 1985;103(2):271-275. doi:10.7326/0003-4819-103-2-271.
Kalichman L, Cole R, Kim DH, et al. Spinal stenosis prevalence & association with symptoms: The Framingham Study. Spine J. 2009;9(7):545-550. doi:10.1016/j.spinee.2009.03.005.
Fukusaki M, Kobayashi I, Hara T, Sumikawa K. Symptoms of spinal stenosis do not improve after epidural steroid injection. Clin J Pain. 1998;14(2):148-151. doi:10.1097/00002508-199806000-00010.
Mekhail N, Costandi S, Nageeb G, Ekladios C, Saied O. The durability of minimally invasive lumbar decompression procedure in patients with symptomatic lumbar spinal stenosis: Long-term follow-up [published online ahead of print, 2021 May 4]. Pain Pract. 2021;10.1111/papr.13020. doi:10.1111/papr.13020
Friedly JL, Comstock BA, Turner JA, et al. Long-Term Effects of Repeated Injections of Local Anesthetic With or Without Corticosteroid for Lumbar Spinal Stenosis: A Randomized Trial. Arch Phys Med Rehabil. 2017;98(8):1499-1507.e2. doi:10.1016/j.apmr.2017.02.029
Pope J, Deer TR, Falowski SM. A retrospective, single-center, quantitative analysis of adverse events in patients undergoing spinal stenosis with neurogenic claudication using a novel percutaneous direct lumbar decompression strategy. J Pain Res. 2021;14:1909-1913. doi: 10.2147/JPR.S304997
Pryzbylkowski P, Bux A, Chandwani K, et al. Minimally invasive direct decompression for lumbar spinal stenosis: impact of multiple prior epidural steroid injections [published online ahead of print, 2021 Aug 4]. Pain Manag. 2021;10.2217/pmt-2021-0056. doi:10.2217/pmt-2021-0056
Abstract presented at: American Society of Pain and Neuroscience Annual Conference; July 22-25, 2021; Miami Beach, FL.
Mobility Matters: Low Back Pain in America, Harris Poll Survey, 2022. View data and full summary at knowyourbackstory.com.